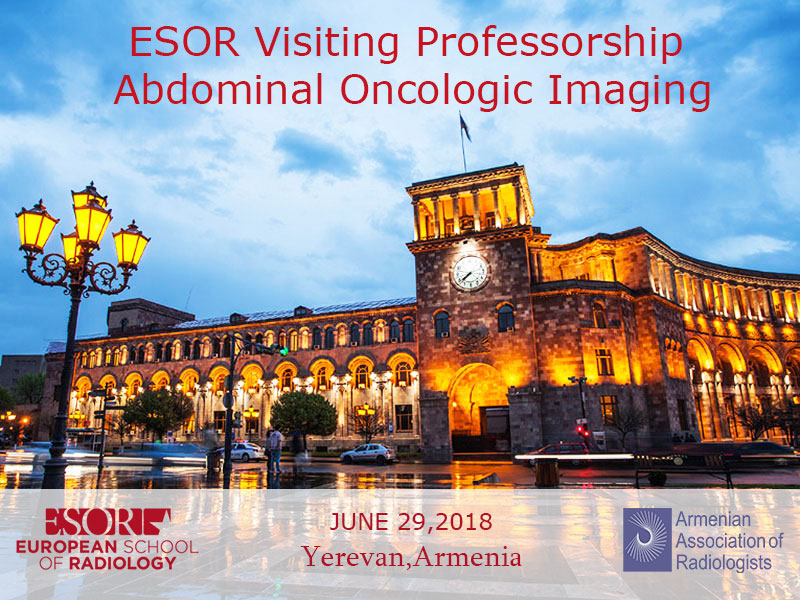 ESOR Visiting Professorship Course
ESOR Course on Abdominal Oncologic Imaging, ESOR Visiting Professorship Armenia, within ESR Support Initiative Programme.

On June 29, 2018 ESOR course on Abdominal Oncologic Imaging will take place in Yerevan, which is organised jointly by the European School of Radiology and the Armenian Association of Radiologists. The Course is part of the ESR Support Initiative Programme.

View the details of the course and the programme in the official website of ESOR.
REGISTRATION PROCEDURE
Step 1 –  Register online by filling the form. Please note, that by registering for ESOR course, you are welcome to register for the Armenian Congress of Radiology, on June 30, (the fee is included in your ESOR course fee) and you can also register for two more events: Gala dinner – June 30 – participation fee – EUR 50, Tour in Armenia – July 1 – participation fee – EUR 30. All is listed in the registration form.
Step 2 – Make the payment via bank,  to the account of the Armenian Association of Radiologists 220413350137002 account number, Acba Credit Agricole Bank, Armenia. Please mention your name during the transaction and send us (armradiology@gmail.com/ info@armradiology.am) the (photo of) payment check within 3 days of your online submission, to receive your registration confirmation via email.
Early registration fee (Feb 1 -April 15) – EUR 100
Late registration fee (April 15 – June 15) – EUR 200
Date – June 29, 2018
Venue – Armenia Marriott Hotel Yerevan, 1 Amiryan St.
Places are strictly limited.
If you have any question regarding the registration, please contact us at info@armradiology.am or via our facebook page. 
Other news
Stay in touch
Videos
Armenian Congress of Radiology 2018